The General Ray Davis Endowment Fund was established in the Spring of 2003 with funds initially provided by the USMC Coordinating Council of Greater Atlanta, Inc., the Davis family, Mr. Sunny K. Park, and friends and admirers of General Davis.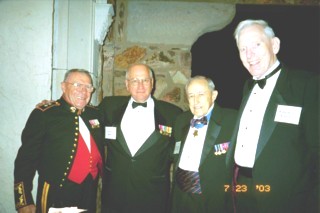 The purpose of the Fund is to establish a firm financial foundation for an international security studies program at Georgia Tech in the Center for International Strategy, Technology, and Policy of The Sam Nunn School of International Affairs and to provide national and regional pre-eminence for Georgia Tech in the study of Northeast Asian Security Studies. In doing so, we meet the following objectives:
Recognize and honor Georgia Tech's Medal of Honor recipient

Recognize and honor an American hero who performed with distinction in the Pacific islands in World War II, North and South Korea during the Korean War, and in the Republic of Vietnam in the Vietnam War

Recognize and honor the United States Marine Corps in which General Davis served

Permit the development of various security-related programs within CISTP to encourage the exchange of talented young scholars and mid-career professionals with international counterparts

General Davis graduated from Georgia Tech in 1938, with honors, and a degree in Chemical Engineering. A retired 4–star Marine Corps general, he was highly decorated and received the Medal of Honor for his valor during the Korean War. Due to the heroics of General Davis and his men, countless lives, both Korean and American, were saved at the Chosin (Chang-jin) Reservoir.