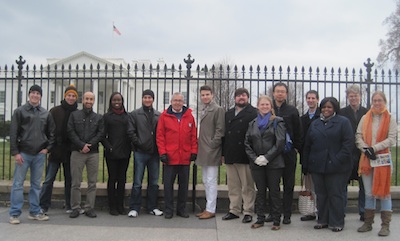 Fellows Visit Washington DC March 2013
(Summary of the Visit | Photo Album)
---
Margaret-Avis Akofio-Sowah
Civil Engineering

Margaret is a 3rd year PhD student in the School of Civil and Environmental Engineering. She earned her B.S. in Engineering Science with a concentration in civil engineering from Smith College and then received a M.S. in Civil Engineering from Georgia Tech. Her research focuses on transportation infrastructure (asset) management with an emphasis on effective ways of implementing asset management programs. As a Sam Nunn Fellow, Margaret hopes to study policy implications of infrastructure management as it relates to transportation but possibly extended to other critical infrastructure systems.

Troy England
Electrical and Computer Engineering

Troy is a Ph.D. student at the Georgia Institute of Technology in Atlanta, GA where he received a M.S. in Electrical and Computer Engineering in 2011. He previously received his B.S in Electrical Engineering at the University of Arkansas in Fayetteville, AR in 2008. His research is on analog and mixed-signal integrated circuit design for extreme environment applications. Currently, he is focused on radiation effects in deeply scaled CMOS. 

Jarrod Rifkind
International Affairs

Jarrod Rifkind is currently a graduate student in the Sam Nunn School of International Affairs at Georgia Tech.  He works primarily on projects dealing with the intersection between technology and security, specifically examining the impact of emerging technologies on military organization and the nature of conflict.  Jarrod is a recipient of the National Science Foundation (NSF) Scholarship for Service (SFS), which is a federal scholarship in the area of information security, and interned this summer with the Department of Homeland Security (DHS).  Prior to beginning graduate school at Georgia Tech, Jarrod received his Bachelor's degree from Northwestern University focusing on Europe, genocide, and national security issues.

John-Patrick Floyd II
Nuclear Engineering – International Affairs

John-Patrick is a Ph. D. candidate in the Nuclear Engineering Department of the Woodruff School at Georgia Tech, and is also working towards his M. S. in the Sam Nunn School of International Affairs.  For his Ph. D., John-Patrick is conducting theoretical and applied theoretical research in the plasma physics field with the goal of contributing toward the development and successful operation of fusion energy reactors.  His doctoral research involves the study of plasma transport processes in the complex edge pedestal region of the DIII-D reactor during cyclical Edge-Localized Mode (ELM) instability formation and evolution.

After earning a B. S. in Nuclear and Radiological Engineering from Georgia Tech with a minor in International Affairs and entering graduate school, John-Patrick became increasingly aware of the instigative role that energy security and supply plays in international relations.  Simultaneously, he developed a deeper understanding of the strong effect that policy has on the scientific community and their efforts to harness advanced, beneficial technology for humanity's benefit.  As a Sam Nunn Fellow, he hopes to study policy issues at the intersection of technological advancement, energy supply, energy security, and non-proliferation.

Oded Green
Computational Science and Engineering

Oded Green is a PhD candidate in the School of Computation Science and Engineering. Oded is part of the College of Computing's graduate student committee. Before coming to Georgia Tech, Oded earned a BSc in Computer Engineering and MSc in Electrical Engineering from the Technion, Israel Institute of Technology.   His current research focuses on developing graph algorithms for analyzing social networks on massively parallel computer systems.   As a Sam Nunn Fellow, Oded would like to study the development of modern technologies and their policies over education in the world.

Adrienne B. Little
Mechanical Engineering, PhD

Adrienne Little is currently a 5th year PhD student in the George W. Woodruff School of Mechanical Engineering at Georgia Tech. Adrienne received her Bachelor's degree from UC Berkeley in 2008, and now she holds a position in the Sustainable Thermal Systems Laboratory at Georgia Tech where her current research develops waste heat recovery energy systems for power plant, vehicle, water harvesting, and electronics cooling applications. Adrienne previously participated in the European Union Center of Excellence summer program, studying various security and international relations issues common to the European Union and the US. Now as a Sam Nunn fellow, she hopes to mature her knowledge in these areas to help promote the integration of new energy technologies into the future world energy mix.

Milad Mahzari
Aerospace Engineering

Milad Mahzari is a PhD candidate in the Daniel Guggenheim School of Aerospace Engineering. He earned his B.S. and M.S. degrees in aerospace engineering from Georgia Tech in 2008 and 2010. His current research involves developing novel estimation methodologies for the analysis of heatshield flight data that was recently returned by the NASA Mars Science Laboratory mission. Milad is interested in studying policy implications of international cooperation for future large-scale space missions.

Ariel Marshall
Chemistry and Biochemistry

Ariel Marshall is a Ph.D. candidate in the School of Chemistry and Biochemistry at Georgia Tech. Originally from Benton, AR, Ariel received her Bachelor of Science in Chemistry in 2008 from the University of Central Arkansas in Conway, AR. She then joined Georgia Tech during the Fall semester of 2008 to pursue a Ph.D. in Chemistry with an emphasis in physical chemistry. Ariel's research focuses on the structural, electronic, and optical properties of conjugated small molecule and polymer systems with promising applications in electronics, photonics, and photovoltaics. As a Sam Nunn fellow, Ariel hopes to merge her research and policy interests studying telecommunication and energy security.

Nathan Mayercsik
Civil and Environmental Engineering

Nathan Mayercsik is a Ph.D. student in the School of Civil & Environmental Engineering at Georgia Tech. In 2010, he graduated with an Honors Bachelor of Civil Engineering with Distinction from the University of Delaware, where he studied advanced composite sandwich panels for blast mitigation. Nathan earned his MS in civil engineering from Georgia Tech in 2011. His current research is an investigation of high strain-rate behavior of cementitious materials via multiscale (nano- to meso-scale) quantitative characterization approach. As a Sam Nunn Security Fellow, Nathan is eager to study how engineers may inform policy, particular in the area of infrastructure security.

Spencer Mickum
Nuclear/Radiological Engineering

Spencer Mickum is a PhD student in Nuclear and Radiological Engineering at the George Woodruff School of Mechanical Engineering at Georgia Institute of Technology. He received his B.S. in Nuclear Engineering at Texas A&M University in 2010. His research interest is in safeguarding nuclear material and strengthening the nuclear nonproliferation regime though the application of advanced detection technology. He is currently working on novel neutron detection devices based off of II-IV group semiconductors and organic scintillators. As a Sam Nunn Fellow, Spencer is interested in studying the policy impact to shifting the focus of nuclear regulations from mitigating adverse health effects to minimizing the loss of accessible land following a nuclear event.

Kelly M. Nicholson
Chemical & Biomolecular Engineering

Kelly Nicholson received a B.S. and M.Eng. in chemical engineering from the University of Louisville and is currently a Ph.D candidate in the school of Chemical & Biomolecular Engineering at Georgia Tech under Prof. David Sholl. Her current research involves using computational ab initio methods to identify metal hydride gettering materials for high temperature tritium capture in Next Generation Nuclear Plants. She also perform materials modeling related to crystal structure prediction and thermodynamic property calculations. Kelly has interests in a wide array of energy technologies and previously completed research related to biofuels and wind engineering. As a Sam Nunn Fellow she wants to focus on energy security and policy, particularly to assess the modeling capabilities of energy authorities.

Soheil Shayegh
Industrial and Systems Engineering

Soheil Shayegh a PhD candidate in H. Milton Stewart School of Industrial and Systems Engineering at Georgia Tech.  He has an undergraduate degree in Civil Engineering from Isfahan University of Technology in his home country Iran and holds a masters degree in Industrial Engineering from American University of Armenia. He is currently the project coordinator of Engineers for a Sustainable World (ESW) at Georgia Tech. His PhD research is focused on economic impacts of the climate change adaptation and mitigation. As a Sam Nunn Fellow, Soheil hopes to study the different aspects of an optimal global climate change policy which secures the economic growth of the current and future generations.  

Dazhong Wu
Mechanical Engineering

Dazhong "Daniel" Wu is a Ph.D. student in the G.W. Woodruff School of Mechanical Engineering at Georgia Tech. He received his B.S. and M.S. degrees in Mechanical Engineering from Hunan University and Shanghai Jiao Tong University in 2004 and 2007 in China, respectively.

His current research interest focuses on Cloud-Based Design and Manufacturing (CBDM), a novel research topic and an emerging paradigm of product development. Since 2010, he has been revitalizing ASME Savannah Section as the Chair. As a Sam Nunn Fellow, Dazhong wants to study the policy decisions about how information security can be ensured in the context of the cloud-based systems.