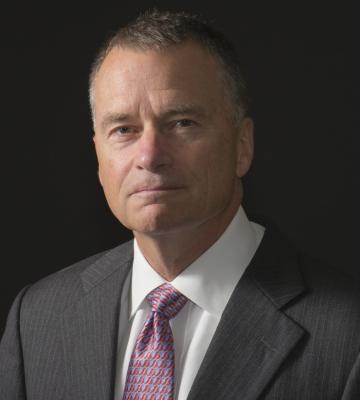 Admiral James "Sandy" Winnefeld, the most recent vice chairman of the Joint Chiefs of Staff, has been named a faculty member at the Georgia Institute of Technology. Winnefeld joins the Sam Nunn School of International Affairs as a Distinguished Professor. He will also serve as a senior fellow in the School's Center for International Strategy, Technology and Policy, which focuses on policy research.
Winnefeld will work with Georgia Tech faculty, researchers and students on a number of projects, classes and presentations; he brings recent experience in the fields of strategy and policy, leadership and defense investment to the Institute.
Winnefeld graduated from Georgia Tech in 1978 with a degree in aerospace engineering. He retired from his position as the nation's second highest-ranking military officer on July 31. Prior to his role at the Joint Chiefs of Staff, he served as the commander of United States Northern Command and the North American Aerospace Defense Command (NORAD).  He also commanded the United States Sixth Fleet and NATO Allied Joint Command, Lisbon. His new title, Distinguished Professor, is the same as Sam Nunn, the former U.S. Senator for whom the Institute's School of International Affairs is named.
Winnefeld's awards include the Defense Distinguished Service Medal, Distinguished Service Medal, Defense Superior Service Medal, the Legion of Merit, the Bronze Star, the Defense Meritorious Service Medal, the Meritorious Service Medal, the Air Medal, and five Battle Efficiency awards.